About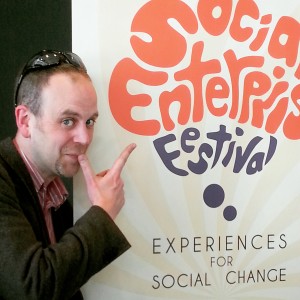 After reading business in Cambridge, I worked with one of the top 100 PR consultancies in the UK before taking on various management roles within a wide variety of social enterprises, community organisations and more 'traditional' enterprise support bodies.
These experiences enabled me to 'turn around' an ailing specialist social enterprise support agency into a nationally recognised body and gained me recognition as an authority on social enterprises from local, regional and national organisations including the DTI and Bank of England.
I have used this position, along with my knowledge of the changing environment and policy context in which social enterprises operate, to deliver support to local groups and national projects to high acclaim. This appreciation has been not only from the direct individuals and communities my work has impacted upon, but others, including support agencies and international governments. It has also led to my being invited to be an occasional writer for national and regional publications.
'VALUES IN ACTION'
As someone who believes in the value of social impact reporting and strives to be transparent in how I conduct my professional work, I have committed myself to monitoring and reporting openly on my impact and the extent to which I have been able to generate activity in relation to my values:
| | | | |
| --- | --- | --- | --- |
| | 2016/7 | 2015/6 | Average over last 11 years |
| | | |   |
| journeys by public transport, bicycle or foot | 93% | 94% | 72% |
| | | |   |
| turnover invested in continuing development of skills & knowledge | 5% | 3% | 5% |
| | | |   |
| proportion of supply chain purchases made within the 'local economy'(within 10 mile radius of registered place of business) | 36% | 33% | 42% |
|  proportion of supply chain purchases made within the 'social economy'(from co-ops, social enterprises and charities) |  14% |  19% |  27% |
| | | | |
|  feedback on all training delivered (rating: excellent-  very good)   |  98% |  98% | 99%  |
| feedback on all training courses developed (rating: excellent- very good) | 96% | 95% | 97% |
| | | |   |
| impact of training on knowledge and confident of participants | +70.5% | +57.8% | +55.7% |
| | | |   |
| value of pro bono support given* | £6,443 | £8,177 | £7,395 |
| | | |   |
| tax paid as a percentage of turnover (income tax, NI, and non-recoverable VAT on purchases) | 20.5% | 23.9% | 22.2% |
'QUALIFICATIONS AND PROFESSIONAL MEMBERSHIPS'
– level 6 advanced diploma in business advice
– level 5 business coach and mentor
– SFEDI certificated (including additional social enterprise standards)
– ILM certificated trainer